Pianos on the Street
The event where pianos take to the streets of Murcia
Pianos on the Street is a project by Klavier, in which he makes available to any pianist who wishes it, the possibility of playing live with the public with large grand pianos, pianos of great artists (Elton John) and a unique infrastructure that allows you to play in the most beautiful and charismatic places in the city of Murcia.
Clamo Music supports this initiative including in its program of the International Piano Competition, a demonstration of its participants in these enclaves spread throughout the city, bringing in this way elite musicians to all Murcian and Murcian lovers of culture and music for piano
Map of Pianos in Murcia
All the information of pianos located in the City of Murcia during the event Pianos in Calle 2021
Actuación de Artistas del Concurso Internacional de Piano Clamo Music
---
Lugar: Pza. Cardenal BellugaFecha: 12 de mayoHora: 21:30

Actuación de Artistas del Concurso Internacional de Piano Clamo Music
---
Lugar: Molinos del RíoFecha: 12 de mayoHora: 21:30

Actuación de Artistas del Concurso Internacional de Piano Clamo Music
---
Lugar: Plaza Santo DomingoFecha: 12 de mayoHora: 21:30

Pianos en la Calle
---
Lugar: Plaza Santa Eulalia

Pianos en la Calle
---
Lugar: Plaza Julián Romea

Pianos en la Calle
---
Lugar: Muralla Árabe - Arco de Verónicas
Piano Recital Program
Program of performances that the participants of the Clamo Music 2018 International Piano Competition will perform in different enclaves of the city of Murcia on May 12.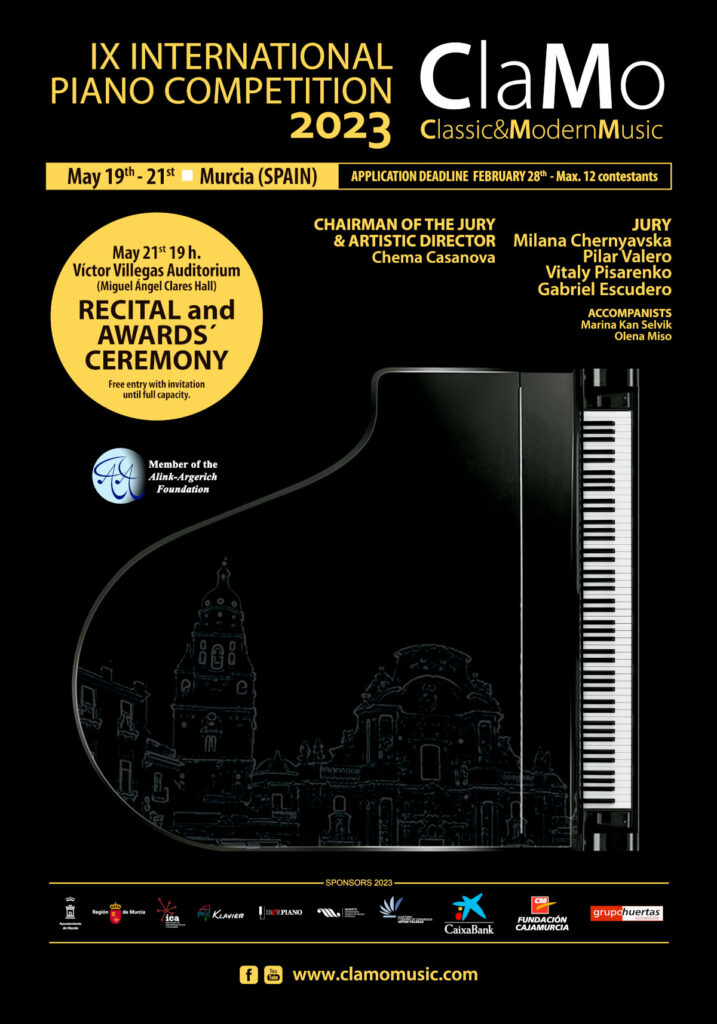 At Clamo Music we are pleased to present the IX Edition of the Clamo Music Region of Murcia International Piano Competition 2023. A nationally and internationally consolidated competition due to its high level of applicants, which brings together the best international piano promises in the city of Murcia.The IX Edition of the Clamo Music International […]
REGISTER IN PIANOS ON THE STREET
Klavier and Clamo Music invite any pianist to participate in Pianos at Calle 2021. You can send your request through the official website of the event.
PIANOS IN
THE STREET
On the dates of the Clamo Music International Piano Competition, the initiative Pianos en la Calle that Murcia City Council, Musical Instruments Klavier and Clamo Music promoted in the city of Murcia since the first edition of the contest, will once again offer the public the opportunity to enjoy great artists of international stature in the historic enclaves of the city. A unique atmosphere that Murcia offers both to the public and also back to the pianists, thus creating one of the best valued events and already fundamental in the spring of the city of Murcia.
In addition, Pianos On The Street is open to anyone who wants to sign up and play the piano before an attentive audience and eager to enjoy music in the most picturesque streets of Murcia. An opportunity for any pianist to feel a unique experience, outdoors, playing with pianos of great brands provided by Klavier, before the watchful eye of hundreds of passers-by and with the possibility of winning great prizes provided by Klavier.