VI INTERNATIONAL PIANO COMPETITION CLAMO MUSIC 2020
The International Music Competition Clamo Music Region of Murcia is consolidated in this sixth edition as one of the piano competitions with more national and international projection, with true value for the winners and participants both in terms of diffusion and promotion, as well as experience of high professional and artistic value.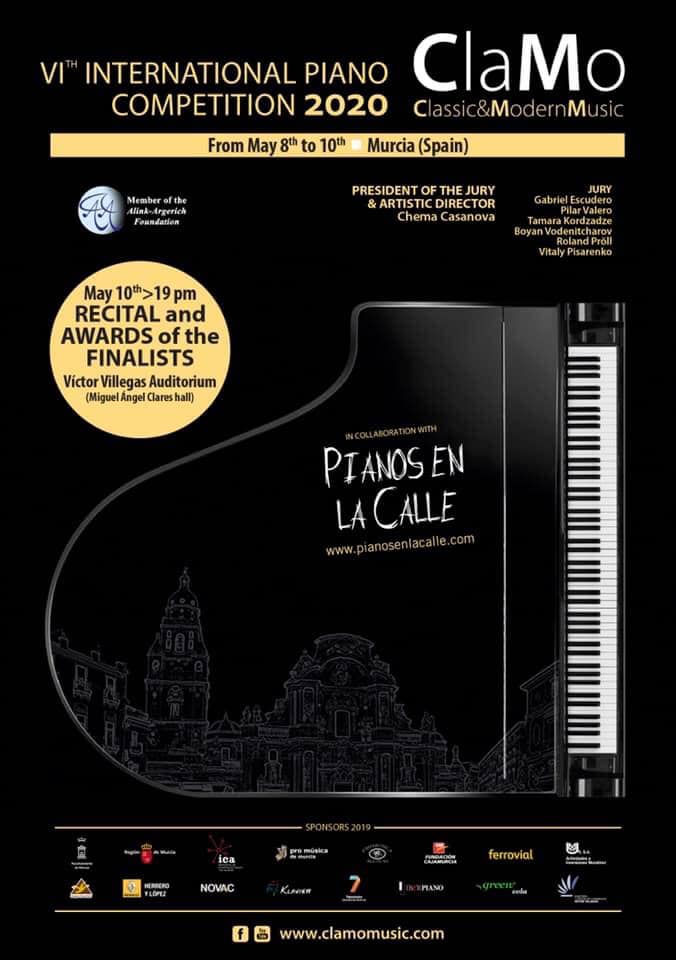 RULES OF THE INTERNATIONAL PIANO CLAMO MUSIC COMPETITION
The Clamo Music International Piano Competition is consolidated in this sixth edition as one of the best piano competitions thanks to the high quality of its candidates, judges, awards, organization and promotion in specialized media. Check the rules of the competition, fill your application and participate in one of the best international competitions of piano and with more international projection, thanks to the circle of artists and possibilities that we are increasing with each edition.
OPENING THE REGISTRATION PERIOD FOR CANDIDATES
Following the success of previous editions of the Clamo Music international piano competition, thanks to the quality of the participants, the jury, institutions, collaborating companies, organization and dissemination of the competition, the deadline for registration of candidates for the fifth edition International Clamo Music Piano Competition scheduled for 8, 9 and 10 May 2020 in Murcia (Spain). The registration deadline for candidates will be closed on March 31 2020.
Read the contest rules carefully and fill out your application for registration in the next edition 2020
ANNOUNCEMENT
The 2020 ClaMo International Music Competition 'Región de Murcia' is open to professional students and pianists of all nationalities. The age limit will be 36 years until the start date of the competition. The main objective, apart from the competition, is to make an effort to create an international forum of musicians from around the world where they can share their experiences and try to contribute to expand and promote classical music, as well as create a network environment among young international people talent and an open-minded jury in this direction to develop his future musical career.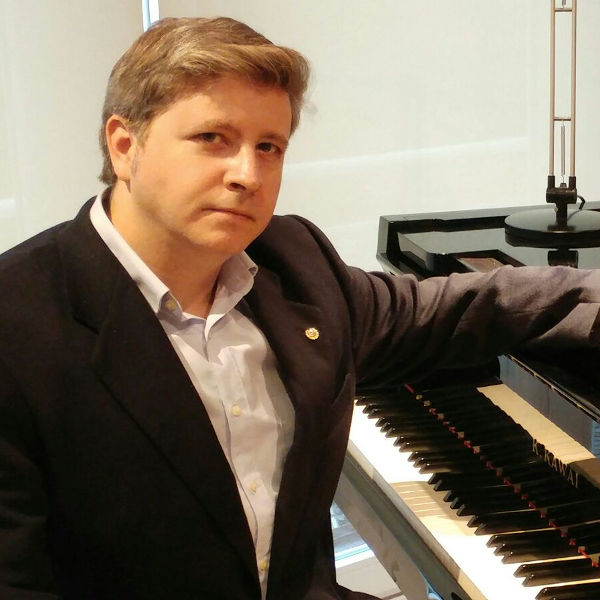 A PIANO COMPETITION THAT SEEKS AND IMPULSES TALENTS
For me, as a musician, it is an immense pleasure to organize an international competition of these characteristics, to be able to produce the enriching meeting between musicians, artists from all over the world, teachers and concertists of the highest level, is the true engine that implores my illusion. An illusion that I intend to put in each and every one of the participants, members of the jury and collaborators that make this contest possible. A project that I personally perceive more endearing to have the luck to carry out in Murcia, the most beautiful of cities at least for me, brimming with culture, love and enthusiasm for music, have been demonstrated both by its people and institutions, To whom I wish to express my deepest gratitude and affection.
Chema Casanova
WINNERS OF THE IV INTERNATIONAL CONTEST OF PIANO CLAMO MUSIC 2019
The fourth edition of the Clamo Music International Piano Competition has been a great challenge for the jury for the high quality of all the participants. Below you can see the performances of the contest winners of the fourth edition 2018, as well as the performances of other participants and editions on our YouTube Channel.
FIRST PRIZE CLAMO MUSIC 2018
SECOND PRIZE CLAMO MUSIC 2018
Subscribe to the Clamo Music channel on YouTube and find the performances of the participants of all the competitions.
PIANO CLAMO MUSIC CONTEST WINNERS
The Clamo Music International Piano Competition is currently a catwalk where we can find pianists revelation of international stature with more projection. Clamo Music is a piano competition where revelation pianists enhance their professional career and forge international ties with different professionals, artists, teachers and front line teachers. Below we show fragments of participation of the winners of the competition of different editions.
FIRST PRIZE

John Lee – China
Olena Miso – Ukrania

SECOND PRIZE

Alexander Sonderegger – Russia
Paris Tsenikoglou – Greece

THIRD PRIZE

Timothy Chiang – Australia
José Alberto del Cerro – Spain


FOURTH PRIZE

Marina Goshkieva – Germany
Marie Luise Bodendorff – Germany


PRIMER PREMIO

Vivian Cheng – (USA)
Seo Young Jan – South Korea

SEGUNDO PREMIO

Anna Kavalerova – Russia
Philipp Lynov – Russia

TERCER PREMIO

Jorge Nava – Spain
Paris Tsenikoglou – Greece
María Kustas – Russia

PRIMER PREMIO

Marina Kan Selvik – Norway
Vicente Prieto – Spaina

SEGUNDO PREMIO

Evgeniya Antonova – Russia
Aya Sakamoto – Japan

TERCER PREMIO

Maxim Kulagin – Russia
James Guan – Australia

PRIMER PREMIO

Ruben Micielli – Italy
Konstantinos Destounis – Greece


SEGUNDO PREMIO

Galina Zhukova – Russia

TERCER PREMIO

Polina Tonchuk – Russia
Aldo Dotto – Italy
OPEN ENROLLMENT PERIOD
The sixth edition of the Clamo Music International Piano Competition in the Region of Murcia (Spain) is already underway. We open the selection process for the next contest to be held on May 8, 9 and 10, 2020. Do not miss this opportunity and register in the contest, great prizes in cash, concerts, diffusion and promotion in specialized media are waitting for you.
The Registration Deadline ends on March 31, 2020
MORE THAN 

10.000€

IN AWARDS AND SCHOLARSHIPS

STRONG SPECIALIZED 

PROMOTION

POSSIBILITY OF

CONCERTS  

FOR AWARDS

PRESS AND MEDIA 

DIFFUSION
JURY OF THE INTERNATIONAL PIANO COMPETITION
CLAMO MUSIC
In the sixth edition, the Clamo Music International Piano Competition is backed by an exceptional jury of world recognition, great experience in both teaching areas and other outstanding contests and concert experience.
In Clamo Music we are pleased to announce that the jury will be composed by Mr. Roland Pröll, Mr. Boyan Vodenitcharov, Ms. Pilar Valero, Dr. Gabriel Escudero, Ms. Tamara Kordzadze, Mr. Vitaly Pisarenko and Chema Casanova as Artistic Director and Chairman of the Jury, in the sixth edition of the International Piano Competition Clamo Music 2019. In Clamo Music we are very proud to have an exceptional jury and international renown, which every year adds greater excellence always in line with the philosophy of this piano competition, which in short is to offer a comprehensive experience of great value for the candidate musicians In a high level musical event in the city of Murcia.
In the International Piano Competition Clamo Music we take into account different aspects of the candidates. The technical evaluation of the pianists is fundamental, as well as a training of the pianist in its entirety, that is to say, from the musical expression to an integral professional attitude of the candidate, all the qualities and aspects that a concertist of international stature must possess for an outstanding professional career. That's why Clamo Music is a valuable experience for all aspiring pianists, a great contribution to the winners' curriculum vitae and an international reach.
Boyan Vodenitcharov
Honorary Member of the Jury since 2018
Honorary Member of the Jury in the sixth Edition of the Clamo Music International Piano Competition.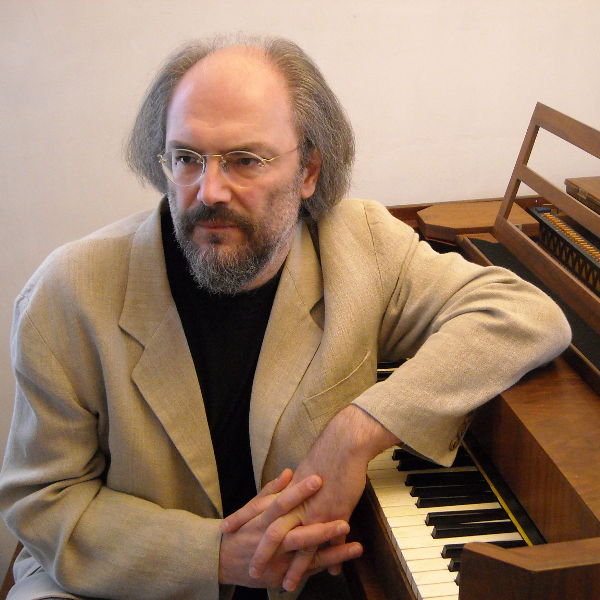 Born in 1960, pianist Boyan Vodenitcharov won the second prize of the Senegallia International Competition when he returned to the State Conservatory of Sofia in 1979. He then won, among others, the third prize at the Busoni International Competition in 1981, the first Grand Prix of the Union of Bulgaria Composers in the national competition in 1982 and the third prize in the Queen Elisabeth International contest in 1983. In 1986 and 1987, he won the "Fullbright Grant" to perfect with Leon Fleischer at the Peabody Conservatory in Baltimore.
Since then, Boyan Vodenitcharov has been acclaimed both in Europe as in the United States, Canada or Japan. Several important festivals such as the Flanders Festival, the Wallonia Festival, the Ars Musica Festival in Belgium, the Amsterdam Piano Festival, Midem in France, etc. Have been invited to act on many occasions. He has been able to appreciate his musical qualities in many prestigious venues such as the Palace of Fine Arts in Brussels, the Concertgebouw in Amsterdam, the Palace of Music in Strasbourg, the Smetana Hall in Prague, the Suntori Hall in Tokyo. Internationally recognized as a concert pianist, he has been accompanied by many orchestras such as the Belgian National Orchestra, the Liege and Flanders Philharmonic, the Residentie Orchestra in The Hague, the Staatskapelle of Schwerin, the Sofia Philharmonic, the Kärtner Sinfonie Orchester etc. . He emphasizes his commitment to contemporary creation, through his many performances of today's pieces (often written especially for him), such as contemporary Bulgarian piano music CDs for the Gega label, as well as his collaborations with All new music or chorographe Frédéric Flamand.
For twenty years he has been interested in old instruments such as the piano or Tangentenflügel. In these instruments he recorded for PHI three trios for piano of Mozart and Haydn sonatas that the selection. Denon, we find him next to Ryo Terakado sonatas for violin and piano by Beethoven. A Flora, with François Fernandez and Rainer Zipperling – on trios and sonatas for violin and piano and keyboard quartets by Mozart Haydn. He also collaborates with other outstanding music specialists such as Marcel Ponseele, Sigiwald Kuijken Jan Vermeulen, Piet Kuijken.
In addition to his activity as an instrumentalist, Boyan Vodenitcharov also works in the field of composition and improvisation. Several of his works have been performed in France, Germany, Belgium and Bulgaria.
As an improviser he collaborated with jazz pianist Arnould Massart and saxophonist Steve Houben, collaborator on the cd "Valses", published in the music Mogno and "Scales darker", published by Igloo. His recent recordings include solo songs by Brahms (Bösendorfer in 1880) and Debussy (in Erard 1910) for the label Explicit! , Sonatas de Mozart (Walter, 1795), as well as improvised piano music project.
From 1987 to 1991 he was a piano teacher at the State Conservatory of Sofia. He then taught piano and chamber music at the Royal Conservatory of Ghent and Liege. There is currently a teacher of piano, piano and improvisation at the Royal Conservatory of Brussels. In 2003, 2007 and 2010 and 2016 she was a member of the jury of the Queen Elisabeth International Competition.
Roland Pröll
Honorary Member of the Jury since 2017
Honorary Member of the Jury in the sixth Edition of the Clamo Music International Piano Competition.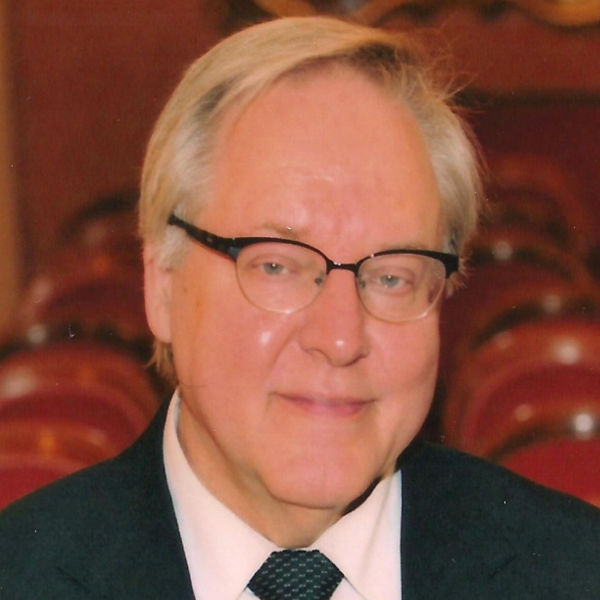 Roland Pröll received his first piano lessons at the age of 5. When he was 11 he became a student of Dieter Wollert at the University of Dortmund Music in Germany. There graduated, diploma with distinction.
He then continued his studies in Paris at the National Conservatory of Music with Messiaen, Loriod, Sancan, Dubois, and other renowned professors. In addition to studying piano, he studied other musical disciplines such as performance and composition. The method taught by Solfège was a formative influence for him, especially in France, which led to his support for the dissemination of this method throughout the world.
He finished his studies of musicology at the Sorbonne in Paris and became a doctor (Doctorate of the University). After this he became a student of Arthur Rubinstein and worked with other famous musicians.
He has won many first prizes in international competitions and gives concerts all over the world. He is a guest of Sydney Opera House, Berlin Philharmonic and others. His fame has spread, especially in Japan and Korea, and more recently in China. Since 2005 he has collaborated with the Murcia Symphony Orchestra and goes on tour with them in Spain. He has recorded a wide variety of CDs and has made many special recordings for television and radio around the world.
He taught at the Music University of Dortmund as a teacher until 1996 and directed the institute from 1988 to 1990 as dean. From 1999 to 2002 he was dean of the Ibach Academy in Schwelm, Germany, which was founded in cooperation with him.
In the period between 2006 and the middle of 2007, Roland Pröll worked as music director of the nonprofit association Viva la Musica e. V. in Bad Oeynhausen, Germany. Due to declining demand the association was dissolved in late June 2007. Since then Pröll works as a tutor and artist for the music agency "Musikagentour Viva" in Bad Oeynhausen, Germany.
In 1987 he founded the international Schubert-Competition in Dortmund, which is now one of the great piano competitions. (Today's leader is Arnulf von Arnim).
Today Roland Pröll is professor of piano and chamber music at the Atsugi Showa Music University in Tokyo, Japan, at the Conservatory of Music of Murcia, and at the Conservatory of Osnabrück, Germany.
He gives master classes and concerts all over the world.
Aquiles Delle Vigne
2015 / 2016
Honorary Jury of the First and Second Edition of the International Clamo Music Competition 2015/2016.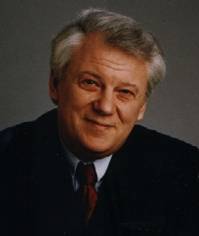 "Only a few pianists can range from a sparkling Mendelssohn to a thundering Liszt, while passing by an aristocratic Ravel, sophisticated and charming …" says Harold Schoenberg of the New York Times. The Italian daily La Repubblica calls it "A prince of the piano", the ERP Rheinische post "a great master of pianists" and SVZ Salzburger Volkszeitung "from silence to steel power."
Born in Argentina, Aquiles Delle Vigne gave his first recital at the age of 8 years. At 17 he was a disciple of Claudio Arrau and won the prestigious Grand Prix "Alberto Williams". This award opened the doors to the most important concert halls on the continent. He later completed his training in Europe with Prof. Eduardo del Pueyo and Georges Cziffra. He has performed more than 25 tours in Japan, 10 in Australia, the United States of America, Mexico, Hong Kong, Korea, and all of South America. Today he is invited to the major festivals and venues of the world such as Gstaad, Paris, Salzburg, Madrid, Euro Festival in Seoul, Beethoven Festival under Lord Yehudi Menuhin, Leopold Hager, Georges Octors, Alberto Lysy, Lee Dong- Ho, Bogo Leskowitch, Vladimir Kim, Emiel Simon, R. Edvard Tchivtzel, André Vandernoot, Edgard Donneux, Kamen Goleminov, Juan Carlos Zorzi, Jesús Medina, Claudio Santoro, Henrique Morelenbaum, D. Marinescou, Laurent Petit-Girard, and with the Major orchestras in the world.
Achilles Delle Vigne lectures at the International Sommerakademie Universität Mozarteum in Salzburg, was a guest lecturer at the Royal Northern College of Music in Manchester and an Extraordinary Professor at the National University of Taipei. He is also regularly invited to the Juilliard, Manhattan and Mannes schools in New York, the Tchaikovsky Conservatory of Moscow and St. Petersburg Korsakov Conservatory Saint, Beijing's central and Chinese conservatories, Toho University in Tokyo, the Hochschules in München, Karlsruhe and Hamburg, Universities in Seoul, Sydney, Melbourne, Pretoria, Baltimore, Texas, Indiana, Osaka, Kyoto, Bangkok, Tel Aviv, Oslo, Lucca or Bergen
Member or President of the panel of judges in the most important international competitions of the five continents: Sydney, Pretoria, Cincinatti, Xiamen, Georgia, Turin, Paris, Texas, Casagrande, Monte Carlo Masters, Rome, ClamoMusic Spain and Warsaw.
The Clamo Music Piano Competition in Images
The Clamo Music International Piano Competition is characterized by the proximity to the participants, all members of the jury, attendance at official events, reception of personalities, award deliveries, Pianos in the Street recitals and good moments that make this contest a meeting
SPONSORS AND COLLABORATORS